KPLC Overturns Fortunes to Record Profits
Kenya Power is back to profitability according to its parent Ministry Chief Administrative Secretary (CAS) in the Ministry of Energy Zachary Ayieko says the company will post a profit for the year ended June 2021 on the back of concerted efforts to improve its operations.
"We are going to make a profit and the turnaround results can now be seen. We hope this performance can be sustained," he told Senate's Energy Committee on Wednesday.
"What we are noting now is that the company is turning around. Quite a number of things are changing. There is improved focus by management."
While the CAS did not break down the company's numbers for the year, he credited concerted efforts by management and interventions by the Ministry of Energy for the bounce back.
This to include recent plans to restructure expensive commercial loans and an ongoing review of Kenya Power Independent Power Purchase Agreements (IPPs).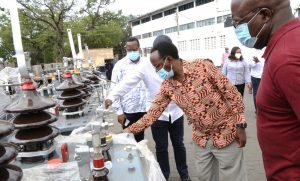 The Ministry is also reportedly intervening on illegal connections while Kenya Power is set to roll out an elaborate plan to deal with rampant power outages.
"The losses are now starting to go down after breaching the 19 per cent level. Debt collection is now improving with the support of government and the Ministry of Energy," added Mr. Ayieko.
In the financial year ended June 2020, Kenya Power booked a loss of Ksh.939 million, its first loss in 17 years Save for tax credits by the State, Kenya Power would have posted a Ksh.2.98 billion unprecedented loss for the period.
The utility company was forced to make heavy provisions in the year while its financing costs continued to grow unabated.
While the Ministry has painted a rosy picture of the State Corporation, the board of Kenya Power has recently come under fire and is currently the subject of a probe by the Ethics and Anti Corruption Commission (EACC) over alleged graft.
On Tuesday, staff at the utility firm called for the disbandment of the board saying it had sidestepped management in the running of the company even as it accused specific board members of pursuing own interests.