Pay 'Big Bad Wolf Books'conveniently with One Equity Till Number
Celebrated American author,Napoleon Hill, says in the book Three Feet From Gold, "You will be the same person you are five years from now except for two things: The books you read and the people you meet."In that famous quote that's often also attributed to Charlie Tremendous Jones, Napoleon Hill is essentially saying that the course of your life can only be changed through the knowledge you acquire from reading or the networks you build – or both.
Even in today's world of social media, the internet and multimedia content, putting your hands on a hard book and flipping through the pages is something that you still should cherish. At times though we would love to have a collection of books in our home library or shelf, we are at times put off by the prices.However, an easier way to build that library or stock your shelf is by taking advantage of book sales.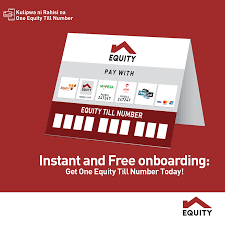 For the first time, The Big Bad Wolf Books are having their first annual book sale at the Sarit Center from 14 th October 2022 to 23 rd October 2022.Even better, for easier payments, they are partnering with Equity to enable you to get yourself that book you always wanted at discounted prices as you enjoy the convenience of making payments using the One Equity Till Number or your Equity Card.
What's the ONE EQUITY TILL NUMBER? One Equity Till Number is a payment till number that enables mobile subscribers to pay for goods and services conveniently at their preferred merchant locations. The interoperability feature of the One Equity Till Number means that subscribers can pay from M-pesa, Equitel, Airtel Money, Equity Mobile and Pesalink.
For the merchants, the payment platform is FREE, Yes, absolutely FREE.What does this mean?
 There is no sign-up fees for businesses or traders or anyone who wants the One
Equity Till Number
 There are no commissions charged – as a business, your payments hits your
account in full. There are no fees or commissions
Additionally, settlements for One Equity Till Number transactions happen in real-time; businesses can access these funds immediately thus offering more convenience to them enabling the businesses to meet their financial obligations. For businesses, having the One Equity Till Number eliminates the risk that comes with handling cash. Additionally, interoperability means that you only need One Till Number which organizes your display as opposed to having multiple tills.
Other benefits include pre-qualified credit based on business volumes.Businesses can see the prequalified amount on Equity's digital channels. Pay With Equity also provides an audit trail making it easy for businesses to do reconciliations.
According to Equity Group's half-year financial results, more than 400,000 merchants countrywide are already using the One Equity Till Number. During the first half of the year, merchant transactions grew by 382% from 7.8 million to 37.5 million whose value grew by 314% from Kshs 42.2 billion to Kshs 174.8 billion.
To get the One Equity Till Number for your business, visit your nearest Equity Bank Branch and get onboarded