Panel discussion on the impact of Russia, Recession and Renewables on investment
Russia's war in Ukraine, the threat of a global recession, and a growing imperative to switch over to renewables. These are all serious challenges that businesses across the African continent currently face, or will face in the near future. But with the right approaches, they also represent significant opportunities. In order to make the most of those opportunities, however, more funding – and debt-based funding in particular – is needed across the continent.
That was the consensus of a panel held this week in Johannesburg, South Africa, which brought together several experts who have a long track record of investing in a broad range of sectors across the continent. On the panel were Bryan Turner, Partner at private equity firm Spear Capital; Philani Mzila, Investment Manager at venture builder Founders Factory Africa; and Zubair Suliman, Investment Director at Norsad Capital.
All three panellists and the companies they represent invest in companies of different sizes and at different stages in their growth journeys. Nonetheless, the challenges, opportunities, and solutions they all expect to see across Africa in the coming months are remarkably consistent.
Opportunities amidst crisis 
They all agreed, for instance, that the past few years – progressing from the COVID-19 pandemic to Russia's war in Ukraine and a looming global recession – have shown that there are always investment opportunities in Africa, no matter what the prevailing conditions might be.
"In the African context, you have to invest in a very uncertain environment with a lot going on with different sorts of investment climates and factors," said Mzila. "What that's allowed us to do is to identify opportunities, even within a highly volatile market. We're really bullish about the opportunities on the African continent." 
Turner, who experienced the 2008 Financial Crisis first-hand while working in London's banking sector, said it was actually the opportunities present on the continent that drew him back and towards working for Spear.
"The rest of the world looks at Africa as though there's no opportunity," he said. "They'll argue there's no opportunity or that it's too risky and it doesn't work. But there are billions of people on this continent that need to eat, that want to be themselves. They want a better life and a better economy. Someone's got to roll up their sleeves and do it."
Suliman concurred, pointing out that his own experiences growing up in wartorn Mozambique exposed him to the importance of taking opportunities, no matter what the underlying circumstances might be.
"What I've learned from my family and friends is to find opportunities," he said. "They've turned out to be some of the wealthiest people in the region because they identified those opportunities."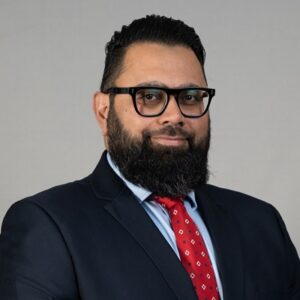 He added that this ability to grab hold of opportunities has also been evident in his investment career, as well as the approach taken by Norsad Capital.
"Where others shy away from frontier markets, Norsad is there," he said. "What makes it so exciting for me is that there's no cookie-cutter cut and paste. But all of the companies we invest in have the ultimate purpose of building a better Africa."
Riding the renewables charge
Turner, Mzila, and Suliman all believe that some of the most significant of the continent's opportunities will be in the renewables sector. In saying that, they also emphasised that the focus on renewables shouldn't just be about delivering renewable energy.
In fact, there is a need for the concept of renewables to be addressed in other areas. For instance, Mzila pointed to the example of a company in South Africa's Limpopo province which uses discarded macadamia nut shells for water filtration.
"The water renewable space is underrated," he said.
Turner meanwhile believes that there is significant opportunity around the minerals Africa is so rich with and which are so crucial to renewable energy. But, he pointed out, the old approach of purely resource-based economies in Africa is no longer fit for purpose.
"We want to create circular economies," he said. "We're tired of Africa being seen as nothing but  the resources extraction point."
For Suliman, getting renewables (in every sense of the word) right in Africa will require a very specific approach.
"It's important to find things that have an immediate impact, allow you to capture the consumer, and then find ways to minimise international plays and grow the region," he said.
Resilience required
When it comes to the characteristics required for entrepreneurs to make the most of those opportunities, all three also agree that having a solid foundation and a sense of resilience are vital.
"You're seeing businesses with really great fundamentals rise to the top," said Mzila.
Suliman agreed, pointing out that, "It's the businesses with good fundamentals, and good management, the resilient companies that navigate challenging times successfully."
A lot of the time, that resilience comes down to the characters of the entrepreneurs concerned.
"We look at the character of the people at our companies and their leaders," said Suliman. "And then we look into the company and see how they can make an impact."
"The reality is that you have to buy into an entrepreneur's vision and see beyond the pitch deck and spreadsheet," Turner added.
More deals, demystifying debt
Ultimately, however, the panellists noted that their organisations can only do so much and that really unlocking Africa's entrepreneurial potential requires a greater number of investors doing deals.
"We found there are so many opportunities on the continent where we're the only show in town," says Turner. "It shouldn't be like that. It should be competitive. There should be a lot of companies competing for good deals." Mzila concurred.
"My ideal outcome is more people in the ecosystem, more risk appetite, and more deals," he said.
But they also believe that there needs to be a shift away from equity-style funding on the continent to a debt-focused one.
"There's not enough understanding of the power of debt," said Turner. "Debt isn't scary – it's how the world creates wealth and we need more of it to ensure that entrepreneurs are able to get funding without having to dilute equity and hand it over to investors who'd happily take the shirts off their backs."
According to Suliman, venture debt (a type of loan aimed specifically at early-stage, high-growth companies with venture capital backing) could prove particularly important on the continent.
"There's a gap missing in the debt space and it is venture debt," he said. "Venture debt would be best. The opportunities are there – they need to be packaged."
In order for that to happen, the panellists said, belief in and understanding of Africa's potential needs to be more widespread.
"The thing that stands out for me is the potential of Africa," Mzila concluded. "It was the only region around the globe that attracted more funding in 2022 than in the previous year. It's about belief in the broader ecosystem."