KDIC hosts inaugural Depositors' Conference to create awareness
Kenya Deposit Insurance Corporation (KDIC) is hosting the inaugural Depositors' Insurance Conference aimed at creating awareness among banks, microfinance, mortgage companies, and consumers on depositors' protection while encouraging Kenyans to save their money in their preferred banks.
The Conference, themed "Building a strong financial system through a savings culture and Deposit Insurance" is being held at the Kenyatta International Convention Centre (KICC).Dr. Chris Kiptoo, Principal Secretary, the National Treasury and Economic Planning, has expressed gratitude to KDIC for organizing the event, bringing together stakeholders and experts to mobilize deposits in Kenya
"The inaugural conference is dedicated to promote financial stability through dual pillars; robust saving culture and effective deposit insurance mechanism because we need to focus on savings and even with those savings, we need to make sure we have effective mechanisms to protect them." Principal Secretary Kiptoo said"I am pleased to know that Kenya has achieved a remarkable level of financial inclusion in Africa with a rate of 84 percent and an equally impressive financial access rate of 82.9 percent. It is crucial to ensure the security of these funds, hence the financial safety nets participants must implement appropriate measures to safeguard them," the PS added.
"Despite these numbers,Kenya's savings rate is still quite low.The highest we have gone is 15 percent a few years ago and the latest saving rate in Kenya is 12 percent and average for Africa is 17 percent.That is quite low as many countries have higher rates of savings. we have to focus on making sure that the savings are promoted." Dr. Kiptoo said.
The Principal Secretary validated the Corporation at the Depositors Insurance Conference adding that the discussions will underscore the critical role that both individual depositors saving habits and insurance of depositors play in bolstering the financial system. Dr. Susan Koech, Deputy Governor, Central Bank of Kenya, applauded KDIC's role in the extensive transformation of the banking sector since it was
instituted in 2012.
"The asset base has grown by 218.1% from Ksh 2.3 trillion in Dec 2012 to 7.4 trillion in September 2023. The deposit base has increased from 221.9% from Ksh 1.7 trillion in December 2012 to Ksh 5.5 trillion in September 2023. The number of deposit accounts have increased by 295% from 15.9 million accounts in December 2012 to 62.8 million accounts in September 2023. The number of Bank branches in Kenya have increased by 17.8% from 1,272 branches in December 2012 to 1,498 branches in September 2023." Dr. Susan Koech
remarked.
During the Depositors' Insurance Conference, KDIC also launched the web-enabled training module aimed at educating employees of commercial banks, microfinance banks, and mortgage institutions on the importance of deposit insurance. This will help them play a crucial role in deposit mobilization and instilling confidence among members of the public. Mrs.Hannah W Muriithi; EBS,Chairperson of the Board of Directors, KDIC, reaffirmed the Corporation's commitment to resource banks with information to reinforce their understanding of Deposit insurance.
"Upon realization of the urgent need to close the gaps in knowledge sharing with our members, in 2020, KDIC developed the first-ever module online course for bank employees. It is envisaged that this online course for bankers will increase knowledge of deposit insurance and build confidence in the banking system."
Mrs. Hannah Muriithi said. "Your money is safe and secure at the bank," she reiterated. Through the training module, banks will have access to higher deposits via increased public awareness and promoted saving culture.
Mrs. Hellen Chepkwony, Chief Executive Officer, KDIC said the Corporation has been consistently engaging various stakeholders to ensure everyone is informed on deposit insurance, foster depositor protection and maintain the stability of the financial systems.
"This Conference is a platform that extends an open invitation to crucial stakeholders and the public for us to engage and interact with the key players in the banking sector. Stability of the financial sector also depends on assuring key stakeholders and the public of the existing measures, controls, and mechanisms on Kenya's deposit insurance even in the event of banks failure," Mrs. Chepkwony said.
The conference will cover topics such as:
I. Role of Deposit Insurance in Financial Stability
II. Crisis Preparedness and Management in the Financial Sector
III. E-money and Banking in the 21st century
IV. Cooperation and Collaboration for Prompt Bank Resolution
"In our unwavering commitment to a customer-centric approach,KDIC has consistently engaged with our stakeholders to deliberate and receive feedback on fostering depositor protection and maintaining the stability of our financial systems," adds Mrs. Chepkwony.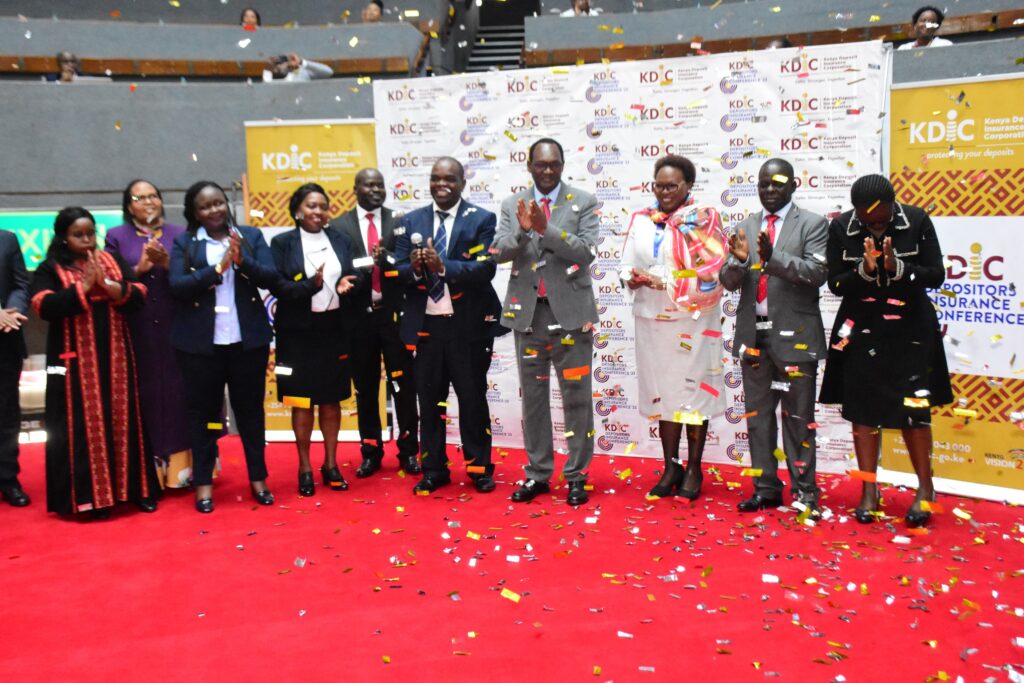 "This model provides incentives to banks with sound risk management frameworks, fostering a culture of prudence and preparedness in the resolution process. The risk assessment embedded in this pricing mechanism identifies banks facing challenges, enabling us to enhance preparedness for potential resolution."
The Kenya Depositors Insurance Week hosted an exhibition on the sidelines where banks insured by KDIC exhibited their products, services, and solutions.