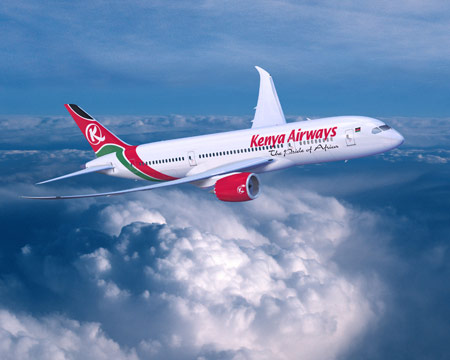 Kenya Airways Resumes Passenger Service to Bangkok with 5 weekly Flights from Nairobi
Kenya Airways has resumed 5x weekly Bangkok flights, providing travellers from Africa with convenient connections via Nairobi to the popular tourist destination in Thailand.
National carrier Kenya Airways (KQ) has announced the resumption of flights to Bangkok starting 21 November 2023 operating the route five times per week.
The route was launched in 2003 and suspended in 2020 due to the global Covid-19 pandemic.
The resumption of flights to Bangkok will expand KQ's current network to 42 destinations, offering travellers into and out of Africa, convenient connections via Nairobi to the popular Thai destination.
The flights between Nairobi and Bangkok will be operated with the modern Boeing 787-8 aircraft connecting Africa to the world and the world to Africa via Nairobi.
Kenya Airways Chief Commercial and Customer Officer Julius Thairu said,
"Today marks a moment of pride and readiness as we reintroduce our flights to Bangkok,Thailand.
This initiative underscores our proactive approach in expanding international routes, urging our passengers to embrace new and enriching travel experiences.
Beyond its status as Thailand's capital and most populous city, boasting a population of over 10 million,Bangkok is a vibrant hub offering a wide range of tourist, art, and cultural attractions for our esteemed customers."
Customers can book flights on kenya-airways.com, or Online Travel Agents (OTAs). Travellers are urged to check the latest information or visit https://www.kenya-airways.com/en/plan/travel-information/travel-requirements/ for details before booking.
The table below shows the flight details:
Flight No
Pattern
Origin
Destination
Departure
Time (Local)
Arrival
Time (Local)
KQ886
Mon, Tue, Thu, Fri & Sun
Nairobi
Bangkok
23:45
13:30
KQ886
Mon, Tue, Wed, Fri & Sat
Bangkok
Guangzhou
14:40
18:35
KQ887
Mon, Tue, Wed, Fri & Sat
Guangzhou
Bangkok
21:40
23:35
KQ887
Tue, Wed, Thu, Sat & Sun
Bangkok
Nairobi
01:00
06:05
*