FEATURE;From Scars to giving back to Community,30 years later
An inspiring story of man who missed death by a whisker, saved by a Kenyan nurse and upon making it abroad, now wants to transform the Kenyan health sector;
By;Benard Levy;
The 1991 civil strife in Somalia will be remembered for a number of things, including the displacement of many Somali citizens who ended up in various countries across the globe.
For Mr. Mohamed Jama Mohamed, when Somalia burst into flames in February 1991, that day the house he was inside also burst into flames ignited by petrol that was kept in the house, burning his body and changing his life completely.
Mr. Jama who at the time worked with the Ministry of Agriculture of his country, was being accommodated at his friend's house in Jubaland. The friend sold petrol from his premises.
On the day of the incident, Jama and his friend were pouring gallons of petrol into buckets when someone unknowingly walked in the room with a lamp, immediately causing a huge flame inside the house, engulfing many parts of the house and causing severe burns to Mohamed, especially in the face, back, hands and stomach.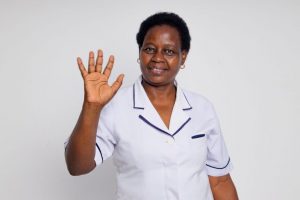 "My body was brutally burned, I incurred almost 35 percent burns and the pain I was going through is indescribable," narrated Mohamed Jama.
To access medication for his burns, Mohamed needed to travel to Kismayu which was about 70 kilometers from where he was. He was also facing the challenge of transportation.
Because the country had erupted into skirmishes, the sounds of gunfire were coming from all over the place and transportation from one place to the other was quite difficult. To get to Kismayu, Mohamed succeeded to get a ride on a pickup truck that belonged to some fighters heading towards the war- torn city.
"They placed me on the floor of the speeding truck. The night travel was rough, with cold breeze hitting my burns. I could feel my body freeze in deep pain. I cried hard so loud, at some point asking the gunmen to shoot me dead because I could not withstand the devastating experience," Mohamed recalled.
However, his death wish was declined by gunmen, who insisted he had to get to the hospital and be treated.
In Kismayu, they found a hospital packed to the brim with people seeking save haven from the war, and ultimately find their way to the neighbouring countries through the port of Kismayu. The medical facility's floors, on the other hand, was filled with sick people with no doctors or nurses onsite
"I did not know anyone in Kismayu and the hospital had been converted into a refugee camp. There was no doctor, no nurses and no form of treatment going on. I struggled with the pain and a swollen face," Mohamed says.
Somehow, someone approached me and asked if I could consider using a skin pain reliever ordinarily used by veterinary personnel on animals, to which he immediately obliged, and used the ointment for a couple of days.
Mohamed and the others continued to camp at the hospital for days as the war worsened until one day, they were informed of a ship they would board to Mombasa, Kenya.
With over 800 people on board, the ship set sail, Mohammed securing some place at the edge where water would splash on him from the heavy currents.
It took seven days for the ship to reach the Kenyan waters in Mombasa. But it could not dock because of clearance procedures to be done with the Kenyan authorities. The process took another ten days. And when the ship was finally cleared, it had taken 17 days of pain and anguish.
In Mombasa the refugees were taken to Majengo area where they were hosted and that is where Mohamed tried to get medication from the Kenyan side. He was helped by a well-wisher to travel to Nairobi from where he was eventually taken to Isiolo by a friend who lived in Eastleigh, to seek medication.
Compassionate nurse
"I ended up in Isiolo for treatment finding a young nurse who looked shocked at the severity of my burns but promised to support me until I can get well," Mohamed said
Because he could not peak both English and Swahili properly, the nurse took him to a ward with a television set so that he wouldn't feel lonely during the course of his treatment.
Mohamed remembers that every morning the nurse would come with fruits and give to him, insisting that the fruits were important for his recovery. Already he had undergone some surgery procedures leading to skin grafting.
Weeks turned to months, as Mohamed continued to receive treatment at the Isiolo hospital, where the young lady continued with her compassionate acts of giving him fruits and medical attention. Three months later, Mohamed was ready to be discharged, with the nurse playing an instrumental role in the process.
"I had no relatives in the country, and so, the nurse took me to her house where she prepared for me tea and escorted me to the bus station where I paid bus fare from the money I had been given," said Mohamed.
That lady nurse was called Florence Lantari. Mohamed recalls asking her why she had been very helpful and caring to him despite the fact that he was not Kenyan and was not even related to her.
"If you do good, good will return to you," Mohamed reckons the candid response from Florence.
In few months, Mohamed was lucky to be repatriated to the US through the United Nations programme for refugees where he settled and went back to college to study for three years as a surgical technician and eventually for four years as a nurse.
Medical inspiration
"When the opportunity to go to the US came, I left Kenya, and all contacts that I had made. And as I arrived in USA, I embarked on studying courses related to Medicare because of the inspiration I had received in Kenya, especially from Florence Lantari, the empathetic nurse. I went to complete my two courses as a surgical technician and eventually as nurse because Florence had inspired me," he said.
Mohamed who is currently a nurse at the University of Minnesota Medical Centre, is married and with two children. This month he visited Kenya after 30 years to come and look for Florence, the nurse at Isiolo who helped treat his burns.
With links from both USA and Kenya he finally found Florence, who currently lives in Machakos town and had just retired from her nursing profession last year 2020. Her final work station was at Machakos Level 5.
"I am so happy to meet her again after 30 years. She didn't even know where I went to after I left Isiolo, so I came back to look for her and thank her for treating me and saving my life. In fact, she inspired me to take up a course as a nurse so that I can help other people."
Call to set up medical facility In Kenya
"I also established a medical charity organization, which will also have a subsidiary in Kenya to take care of sick people through provision of medical equipment and personnel. It is called Health Extension, Promotion and Training Organization (HEPTO) with the head office in Minnesota, USA and branches in both Ethiopia and Somalia," he said.
Mohamed believes that Florence Lantari was born to help other people who are suffering. She does that through her work in nursing and would be the right person to run a branch of Hepto medical charity organization that he is opening in Kenya.
Hep to Kenya will be opening its doors soon. Through Mohamed, medical centers in rural Kenya will be offered medical equipment and personnel who from time to time will visit Kenya from USA to conduct medical camps. Florence Lantari, whom Mohamed came to thank, will be instrumental in the administration of the Kenyan charity.