The Nature Conservancy and partners launch Women-led Fund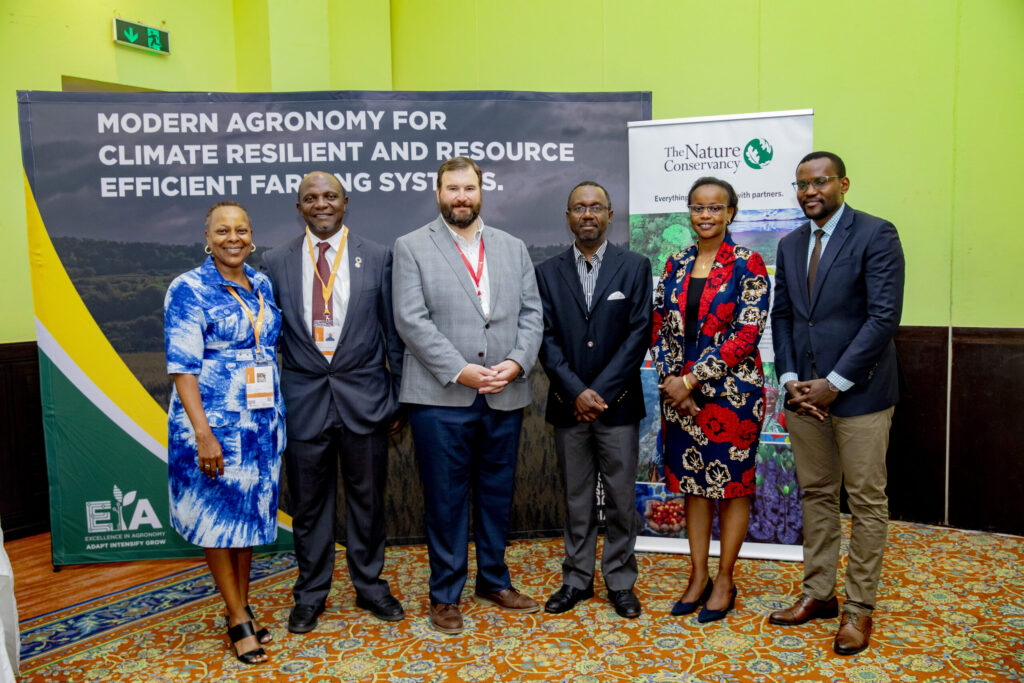 The Nature Conservancy and partners launch the world's first women-led water fund -River Yala Water Fund
The Nature Conservancy has  unveiled a plan to restore the catchment areas in the River Yala basin, in partnership with Women in Water and Natural Resource Conservation, Kapsabet Nandi Water and Sanitation company, Mama Doing Good,and other partners as part of efforts to enhance availability and quality of water for communities in the area.
The revitalization plan will be implemented through the water fund model pioneered by The Nature Conservancy, which brings together diverse water users from public and private
sectors, and civil society to jointly invest in targeted scientifically guided interventions to conserve the water they rely on. This has seen the creation of the River Yala Water Fund, the world's first women-led water fund, in collaboration with Women in Water and Natural Resources Conservation, to spearhead the plan.
The River Yala Water Fund will work with 10,000 smallholder farmers in the five counties(Nandi, Vihiga, Kakamega, Siaya, Bungoma), through which the River Yala flows. The fund will support a variety of activities, including tree-growing campaigns to grow beneficial fruit,fodder, and nut trees while adopting rainwater harvesting, use of sustainable agricultural practices, training and governance establishment for the water fund, freshwater ecology surveys, and river water quality monitoring.
Over 100 fruit gardens will also be set up in schools within the watershed; and thousands of women mobilized into conservation to reap from sale of tree seedlings and fruits. This is geared towards improving water security, conserving
biodiversity, and supporting resilient livelihoods.
The one million trees earmarked for planting in the River Yala catchment are part of five million
trees to be planted in four critical catchments and water towers by The Nature Conservancy,in partnership with the Office of the First Lady of Kenya and Mama Doing Good. Earlier in the year, a similar initiative to protect water sources by planting one million trees was unveiled under the Eldoret-Iten Water Fund.These represent the contribution by The Nature Conservancy to the 500 million trees committed by the First Lady in response to the President's national commitment to plant 15 billion trees in the next 10 years.
Kenya aims to increase its forest cover that currently stands at 7.6% to 30% by 2032.
The Nature Conservancy's Africa Regional Managing Director, Mr. Ademola Ajagbe said, "We all need to work together to restore and protect our water sources that are threatened by forest degradation and increased agricultural activity,while supporting livelihoods and improving food and water security.
The water fund model provides an opportunity to do this collaboratively, through truly African solutions that marry rigorous nature-based approaches with traditional, sustainable African practices".
TNC pioneered the water fund model over 23 years ago to drive watershed protection globally through collective action mechanism.
It has been successfully applied in Kenya. River Yale Water Fund brings to three the number of active water funds in Kenya, including – Upper Tana Nairobi Water Fund, which was the first water fund in Africa, and Eldoret-Iten Water Fund.
Through the Upper-Tana Nairobi Water Fund, 322 kilometers of riparian lands have been conserved and 4 million trees are growing. The Eldoret-Iten Water Fund in its first year of implementation has grown 850,000 tree seedlings which include 250,000 fruit trees to support community livelihoods benefitting 10,000 households and promoted water harvesting by establishing 400 water pans.
Through Her Excellency the First Lady Mama Rachel Ruto's,Mama Doing Good initiative, 13 schools have benefitted from the establishment of Mama Fruit Gardens.
These initiatives aim to support local communities in land conservation, tree growing, and sustainable livelihood activities, such as fruit production and fodder pasture for livestock.