KEPSA fosters opportunities for MSMEs,Young People and Women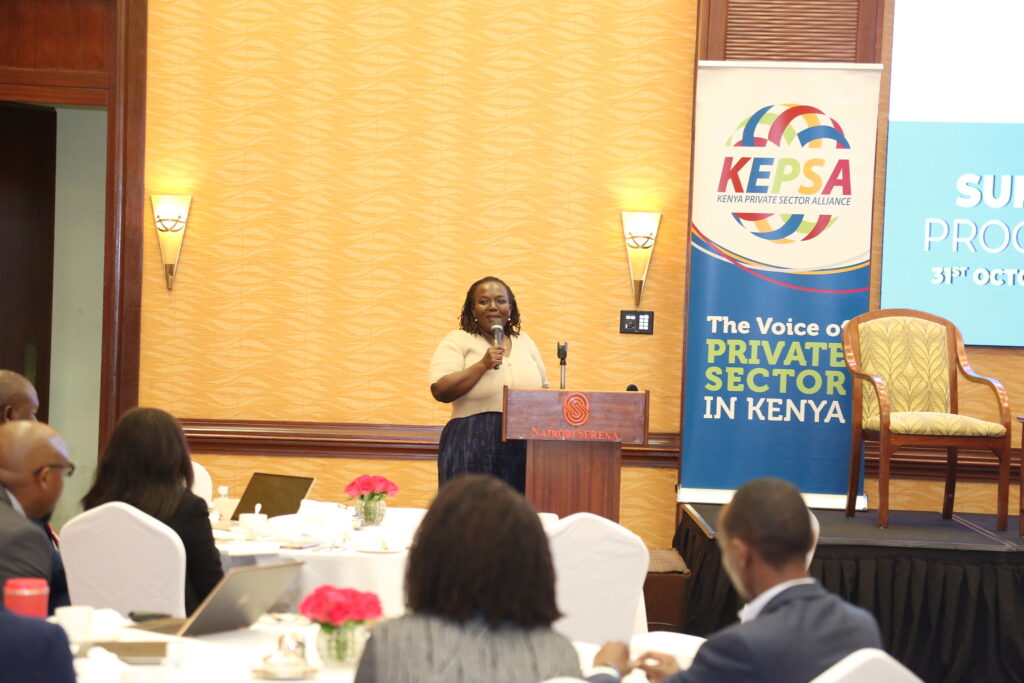 The Kenya Private Sector Alliance (KEPSA) hosted a meeting with corporate partners.The focus was on co-creating a program on supplier diversity aimed at increasing access to opportunities within corporate supply chains by SMEs owned or led by women, young people and persons with disability (PWD) echoing the strong business case for inclusive procurement practices.
The business case for inclusion in the supply chain is underscored by compelling evidence affirming that investing in gender-responsive and inclusive procurement practices is smart economics.  A 2017 UN Women study in Kenya revealed that 82 percent of businesses embracing the inclusion of women, youth, and persons with disabilities in their supply chains experienced benefits such as business expansion, increase in profit margins, enhanced loyalty, and fresh perspectives for supply chain innovation.
Ms. Mary Ngechu, the Director of SMEs & Start-Ups at KEPSA, in her remarks highlighted KEPSA achievements in creating an enabling environment for SMEs. She reiterated KEPSA's commitment to fostering the growth and scaling-up of SMEs through the development of programs aimed at enhancing capacity, supporting innovation, increasing access to markets, and providing financial support. As an example, she mentioned the Covid-19 Recovery and Resilience Program (CRRP), which saw over 100 SMEs receive short-term interest-free loans, trained and mentored over 10,000 participants, and involved over 50 enterprises in investor readiness coaching.
These programs complement KEPSA's role in addressing cross-cutting policy, regulatory, and business climate issues. Ms. Ngechu acknowledged existing policies such as Access to Government Procurement Opportunities (AGPO) Program, which legally mandates the allocation of 30% of government procurement opportunities to women, youth, and persons with disabilities. However, she also noted challenges faced by SMEs, emphasizing the critical need for financing and proposing the utilization of existing programs in both public and private aimed at enhancing affirmative action.
During the panel discussion featuring corporate representatives, key challenges were discussed and opportunities in supplier diversity were explored. Lessons learnt from the previous programs indicated that in most cases SMEs were not adequately prepared for the market, facing issues such as complying to quality standards including KEBS regulations, understanding of procurement conditions such as timely delivery, payment terms, and addressing packaging concerns such as barcoding. The challenge of accommodating persons with disabilities was also highlighted, stressing the need to explore solutions for these special categories as they are falling behind.
Emphasis was placed on the significance of preparedness among SMEs, highlighting the essential need for mentorships through subcontracting arrangements. Other proposed solutions include: establishment of incubation centre to prepare SMEs for the market; establishment of Business Development Centers to provide free business consulting services for SMEs as a positive step in ensuring SMEs are prepared for emerging opportunities; a shared common user facility among various SMEs aims to reduce production costs while maintaining product quality; reengineering of affirmative action funds, such as the Uwezo Fund and Youth Fund in further supporting SMEs; simplifying expression of interest (EOI) and tender documents for SMEs tailored to resonate with SMEs and addressing their unique needs and capacities for seamless integration into the business landscape.
Main Functions
Collaboration Opportunities: There is need for collaboration to promote supplier diversity, including mentorship programs and joint initiatives.
Data Collection: The emphasis on data collection and analysis in measuring the effectiveness of supplier diversity programs was emphasized. 
Continuous Engagement:  continuous engagement and regular meetings would be instrumental in the growth of supplier diversity initiatives. 
In Art-Shell
KEPSA to organize in separate sessions with individual corporates to further engage and co-create solutions. 
Identification of existing opportunities within the corporate space and jointly work together to link these opportunities with the targeted group while providing necessary support to both SMEs and corporates. 
Explore the creation of an information-sharing platform that brings together both SMEs and corporates with an aim of establishing a database and sharing opportunities.
Private sector engagement forums to continuously address the supplier diversity constraints. 
The KEPSA breakfast meeting marks a significant stride toward fostering a more inclusive and diverse business environment in Kenya.The commitment of both the private sector and the government underscores the potential for transformative change in the SME landscape. The journey toward supplier diversity and inclusive procurement practices continues with optimism and collaboration at its core.