Growing Interest in Classic Motorcycles for the Concours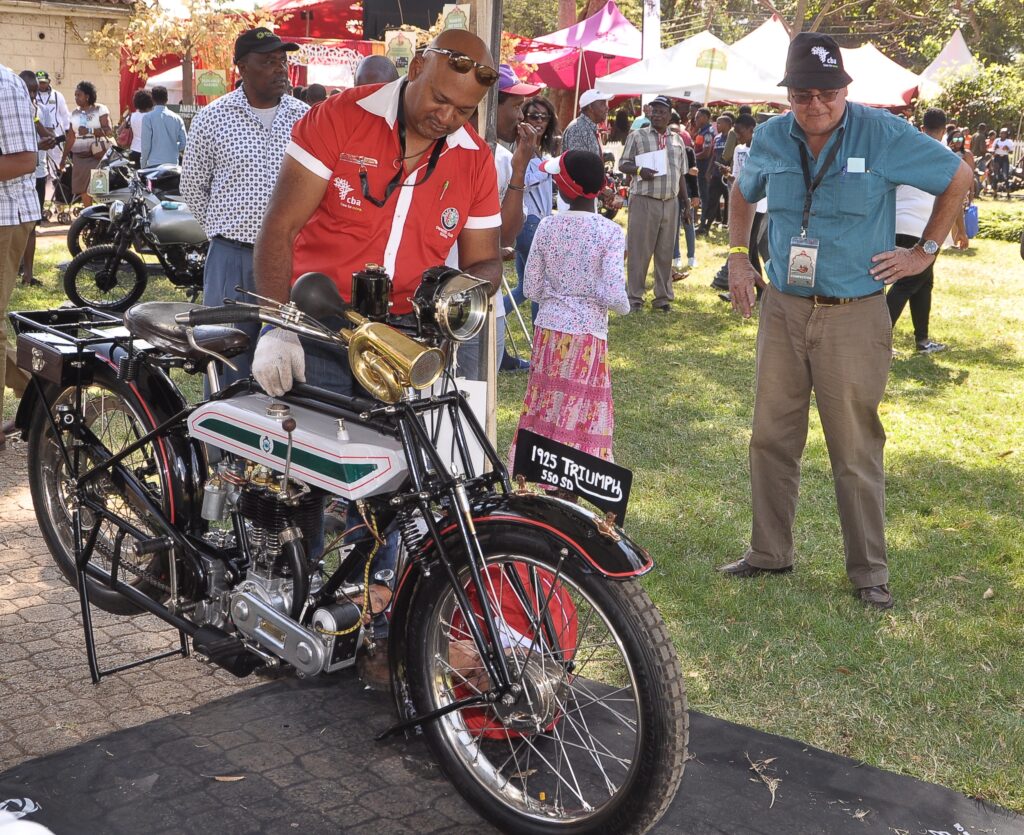 There is growing interest among spectators at the Africa Concours d'Elegance in combining their visit to the Nairobi Racecourse in viewing classic and vintage cars being judged in front of the main grandstands and the amazing selection of motorcycles in the judging ring.
These motorcycles which are rare in Kenya include the 1952 Ducati of Gilgil motorcycle enthusiast Russell Hughes and the 1976 Bultaco Sherpa which is being prepared by Dominique Antoine. He will also be riding round the judging ring on his 1925 Triumph 550 SD which is currently the oldest bike in the Show.
Among the big bikes lining up for judging will be the Suzuki GT750 of Captain David Mwaura, Prateek Singh Gullati's 2001 Honda Shadow Aero and the 1989 Yamaha Super Tenere which will be presented by David Odhuno.
There will also be a squadron of massive motorcycles which are being ridden by members of the Pearl of Africa Motorcycle Club from Kampala to Nairobi. The Uganda contingent will be headed by Franco Masetto who has won prizes in the past with a Honda Varadero VTR1000 made in the year 2000.
Car entries are pouring into the Africa Concours d'Elegance office in the Bob Dewar Publicity Suite on the second floor of Block G at Norfolk Towers. Among the large Mercedes already listed are Dr. Joseph Alouch's 1971 Mercedes Benz 300SE and the 1968 280SE model of Edward Davis. Both these cars have won prizes in the class for large touring cars.This will also feature the 1952 Rolls Royce of Roger Tanner.
Arguably the most attractive Mercedes on show will be the 1974 Mercedes 450SL coupe which is the pride and joy of Kevit Desai, the Concours Patron. His 1968 Jaguar 420 is also expected to earn a place in the top ten.
The latest Mercedes entries are four classic machines which will contest the Concours in the hands of Uganda based enthusiast Patrick Mweheire.
Mercedes have always been known for diesel engined cars and Patrick will drive a 1970 250D model along the judging line in front of the Nairobi Racecourse grand stands on September 24 th . His oldest entry is a 1959 W180 model and his collection includes a 230S made in 1969.
The category for open sports cars will bring spectators to flock to the Racecourse grandstands.Already listed are three Alfa Romeo Spiders. They will be up against a Triumph Spitfire, a rare vehicle that was made in small quantities to rival MGs.
The favourite in the category for convertibles is the 1947 MG TC of Sati Gata-Aura which is also expected to appear on the podium.