Equity Group Foundation concludes annual Education and Leadership Congresses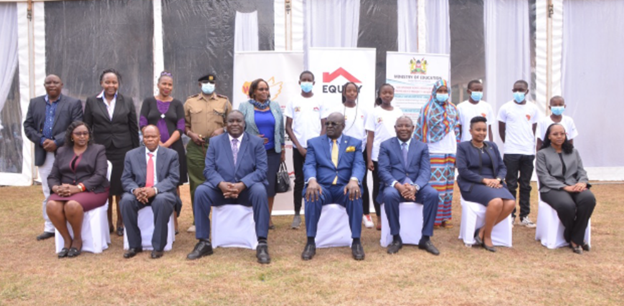 Equity Group Foundation has now concluded its week long annual Education and Leadership Congresses in 16 regions throughout Kenya hosting a total of 21,777 incoming Form Two, Three and Four scholars who are beneficiaries of both the Wings to Fly scholarship program and the Elimu scholarship program. The Annual Leadership Congress has been
decentralized this year owing to the large number of scholars as the program continues to expand and
extend full secondary scholarships to more deserving academically gifted children from financially needy
backgrounds.
 The Nairobi region hosted 2,413 scholars drawn from 3 counties and attached to 46 Equity Bank
branch across the region including 1,266 girls and 1,147 boys who are currently pursuing their
secondary education on full scholarships
 This year's decentralised Congresses are themed Self-Drive: The Key to Lifetime Transformation
and comes at a time when the education sector is returning to normal as school cycles and the
economy bounce back post the COVID-19 pandemic
 As part of the rigorous mentorship program, the scholars will engage with top corporate captains,
academia, government officials, religious leaders, teachers and other scholars in interactive plenary
sessions aimed at challenging them to be creative and innovative in driving change within their
homes, schools and communities
 The theme and daily programs have been tailored to support scholars to unlock their potential and
embrace valuable life skills such as flexibility and resilience which enhance their problem-solving
capacity. The aim is to equip the scholars with a mindset of becoming principal agents of shaping
their destinies through simple decisions they make in their everyday life
 Speaking while addressing the scholars, Ministry of Education Cabinet Secretary Prof. George
Magoha said, "As #Wingstofly and #ElimuScholarship beneficiaries, take control of yourselves and
believe in yourself and you will go far. Education is an equalizer and it does not matter where you are
coming from but where you are going. Learn to be satisfied with what you have and to make the best
out of your situation. Your current circumstance does not dictate your future. Choose your role
models wisely and be the best among your peers. I hope that through this congress you have learnt
something new."
 Also speaking at the event, Equity Group Foundation Executive Chairman Dr. James Mwangi said, "A
balanced society is one that gives equal opportunities and encourages all genders to be bold,
courageous, and audacious in the pursuit of their dreams. The #Wingstofly and #ElimuScholarship
scholars present today comprise of a total of 1266 girls and 1447 boys – a mark of gender equality at
its best. This Congress has been anchored on 5 key pillars including academic excellence, living a
value centered life, nurturing transformative leadership, embracing a culture of giving back & gender
sensitization."
 Ministry of Education Principal Secretary, State Department of Early Learning and Basic Education
Dr. Julius Jwan said, "Equity Group Foundation has contributed immensely to the country's education
sector and we appreciate the efforts that have been put towards giving bright but needy scholars and
opportunity to study and excel."
Equity Group Foundation's Wings to Fly Education and Leadership Congresses have been held consistently for the past 12 years except during the COVID-19 pandemic period in 2020 and 2021.
The holistic nature of the program makes it comprehensive and unique as it focuses on empowering
the scholars through education, mentorship and coaching and encouraging them to invest their time
in doing good by giving back to their communities.
 The host venue, Pangani Girls High School, will benefit from the Nairobi region Congress as the
scholars will plant 2,413 trees on campus as part of Equity's 35 million tree planting initiative which is
aimed at supporting the Government to increase the country's forest cover to 10% by the end of
2022. So far, the Bank has planted over 12 million trees.
 This year's Congress is happening simultaneously with the 2022 Wings to Fly Scholarship application
and selection process that will see 1,000 bright scholars from financially challenged backgrounds who
sat for the 2021 KCPE exams access comprehensive four-year secondary school scholarships
throughout Kenya. Equity Group is sponsoring 2, 000 Wings to Fly scholars for 2022/2023 Form One
selection cycles at a cost of Kshs 2 billion for their entire secondary school education.