EQUITY Continues to sensitize customers on Secure Banking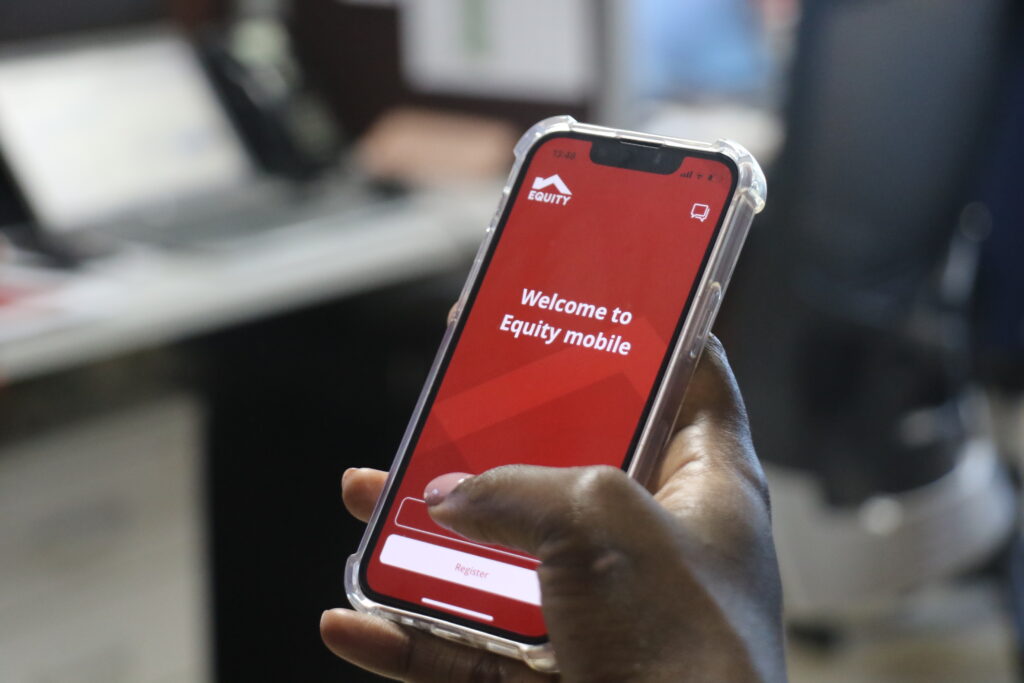 Did you know that six out of ten bank customers prefer Mobile Banking? This is according to a survey by the Kenya Bankers Association released in February 2022. The survey also indicated that another two out of 10 prefer Internet/ Online Banking. Digital payments in Kenya have seen a sharp increase over the last two years as COVID-19 limited person–to–person interaction.
This increased adoption of digital banking channels has unfortunately also seen an increase in the number of Kenyans falling victim to cyber fraud. It is in light of this growing threat that the Kenya Bankers Association (KBA) has kicked off a campaign dubbed "Kaa Chonjo" campaign that encourages Kenyans to remain alert and report any suspicious activity.
Equity is among key banks collaborating with KBA to drive the "Kaa Chonjo" initiative aimed at championing industry development through innovation and advocacy. It seeks to empower consumers of financial services with information on secure use of online, mobile, and card transactions besides contributing towards alleviating fraud in the financial services sector. The campaign also seeks to enhance transaction channels usage by addressing security risks that affect utilization.
With most transactions happening through online channels, Banks have devised crucial mechanisms to inform and educate the masses on cyber security. Equity has been continuously informing and educating its customers about online safety ensuring that cyber security is a top priority. The Bank has also been partnering with like-minded institutions to share technical knowledge and build a common approach to risks such as fraud and cyber-security.
Some of the common fraud schemes affecting customers include account takeovers through unauthorized access to information such as OTP (One Time Password), Mobile Banking PIN, Online Banking Passwords and ATM Pins. When it comes to mobile banking, SIM Swap Fraud is one of the common ways in which fraudsters gain illegal access to bank accounts. To do this, the fraudsters illegally substitute/hijack a target customer's mobile number.
In other cases, fraudsters can also pretend to be officials/ employees from a trusted institution such as the bank and dupe the victim into disclosing confidential information or transferring funds to accounts controlled by the fraudsters.To curb this, customers are advised to NEVER share their PIN or passwords with anyoneincluding merchants, relatives and friends, the Bank staff will never call, email or text to ask for their PIN or Password.
Customers are also advised to set up strong passwords which include symbols, numbers, and upper case and lower-case characters. These should however not be personal information such as names, birthdays, or e-mail addresses.Passwords and PINs should not be stored on devices such as mobile phones or even wallets as these may be accessed by fraudsters in case such items are lost or fall in the wrong hands.
Fraudsters are also increasingly using malware to gain unauthorized access to customers' bank accounts. These are often spread as internet links through SMS and Emails. Customers should avoid clicking on random links or downloading unsolicited files. In addition to setting up the universal customer care number, 0763 000 000, from which the Bank contacts customers, customers can also forward suspicious messages to the number 333.
This is to ensure that they are protected from scammers, as they know the Bank only calls them using that universal number. Customers can also interact and engage with the Bank through a short code 24990. The Bank has also enhanced online banking, focusing on mobile technologies, internet, and
artificial intelligence to drive safety and online channel experience. According to the recently
released Equity Group Q1 2022 results, innovation push through digitization has enabled at least97.1% of all Group transactions to happen outside the branches on self-service mobile banking, Internet banking and third-party channels. Only 2.9% of transactions happened on fixed cost brick and mortar branches and ATM infrastructure.
In line with the Bank's innovation strategy, the Bank has introduced a new single sign-on digital
banking platform that enables customers to access digital banking services via the platform as an
App (Equity Mobile App on Play Store: http://bit.ly/EquitymobileAndroid or App Store:
http://bit.ly/EquityMobileIOS), Web (Equity Online: https://equityonline.equitygroupholdings.com/en/access/login) or the USSD (*247#) service. These platforms offer the Bank's customers a seamless experience – simplified customer
journeys and enhanced security. This also comes with a second layer of security through One
Time Password – OTP.
In summary, Equity advises customers:
 To never share their PIN or passwords with anyone including merchants, relatives and
friends, the Bank staff will never call, email or text to ask for their PIN or Password.
 To set up strong passwords which include symbols, numbers, and upper case and lower-
case characters.
 To never store Passwords and PINs on devices such as mobile phones or even wallets as
these may be accessed by fraudsters in case such items are lost or fall in the wrong hands.
 Equity will only call you from one number 0763 000 000. Do not receive instructions on
phone through a phone call or SMS from people purporting to be Equity staff to commit any
banking transaction on your phone. If you receive such a call or SMS, report by forwarding
that number to 333 immediately. You can also visit the nearest Equity branch or Equity Agent
for assistance or send an SMS via Equity short code 24990 and the Bank will contact you.
#ProtectYourMoney