Airtel and Pesapal Venture to Ease Mobile Transactions in Tanzania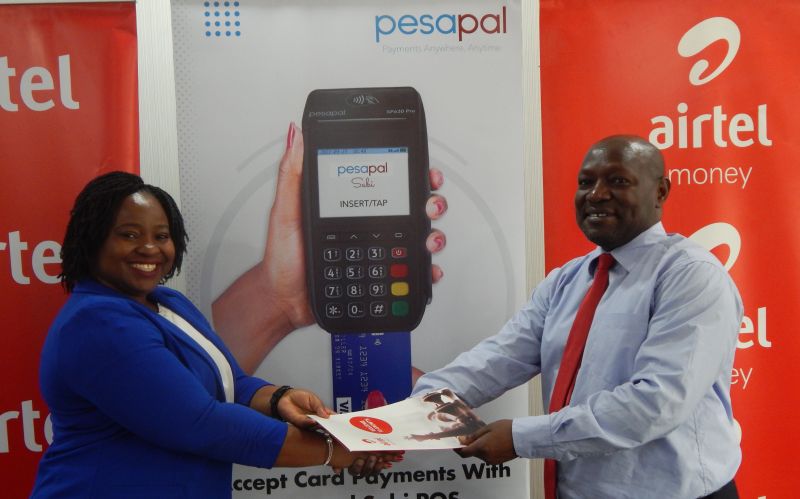 Pesapal,
one of the leading POS and online payments company in Tanzania, that provides affordable payment services to hotels, restaurants, hospitals, pharmacies, to mention but a few, has partnered with
Airtel Money
giving an additional mobile money payment option to all its merchants, on Pesapal POS machines and e-commerce.
This innovation will allow Airtel Money customers to make payments conveniently at any Pesapal merchant using Airtel Money while all Pesapal merchants can now receive payments directly from Airtel money users.    
Pesapal has also extended the Airtel Money payment option to the Pesapal online payments gateway, enabling more than 1300 merchants supported by Pesapal to accept payments via Airtel Money, thus providing a convenient payment option to all Airtel Money customers. The Airtel Money option for online payments is more affordable than most means used to make online payments.  
Under the partnership, all businesses that use Pesapal POS machines will receive payments with Airtel Money, in addition to Visa and Mastercard payments.  
Speaking at the launch of the Airtel Money payment option, at Wood Berry Café, a Pesapal merchant in Dar es Salaam today,Pesapal country Manager Ms.Bupe Mwakalunda said that "the breadth and size of the partnership will bring convenient, affordable and secure payment solutions, better service delivery to all Airtel Money customers to experience a simple payment solution". 
"Tanzania is rapidly changing towards a cashless economy, and we look forward to working with Airtel Money to support merchants in this transition period by enabling them to serve their customers better at all times be it online merchant payments, home delivery services, or at their favorite retail store. "  
"We are determined to provide our customers with the best and most innovative solutions in receiving payments.This partnership is one step forward towards achieving digital lifestyle, bringing innovative financial services closer to our customers in Tanzania," said Ms. Bupe.  
On his part, Airtel Money Director, Andrew Rugamba said that "Airtel Money is pleased to partner with Pesapal to launch yet another innovative service that will increase convenience to Airtel Money customers by enabling seamless, affordable payments for goods and services for all Airtel Money customers.The service will be available in several merchant locations throughout Tanzania expanding the Airtel Money touch points. The service is robust and has gone further to provide Airtel Money customers with a receipt for each payment''.  
"Businesses and online merchants will now serve all their customers conveniently through Airtel Money.All money collected through Pesapal merchants on behalf of the merchant will be settled at the merchant's bank account, we encourage all merchants that want a secure, affordable, and convenient payment method to use Pesapal and Airtel payment option".,said Rugamba.   
Pesapal and Airtel Money partnership is another step in enhancing digital payments supporting the Government of Tanzania's financial inclusion agenda. 
According to the Global System for Mobile Communications Association (GSMA), in 2021, Africa accounted for 70 percent of the USD 1 trillion in mobile phone transactions. 
It increased 39 percent to USD 701.4 billion in 2021 from USD 495 billion in 2020, indicating the future of African banking is mobile phones. 
In addition to Airtel Money merchants' partnership launched today, the company has over 200,000 wakalas and 4,000 Airtel Money Branches across the country making Airtel Money service available to all 24 hrs /7 days a week.