Faith Githaiga Crowned Overall NCBA Golf Tournament winner
Faith Githaiga was named the overall winner of the NCBA sponsored mug golf tournament at Nyeri Golf Club, after she carded an impressive score of 67 net. The tournament brought together a field of over 70 golfers from Nyeri and its environs.
Muthoni Njogu took home the overall lady winner award while Mathew Wambugu claimed the overall male winner, having both garnered 70 net.
Dr. J.W Wamae on the other hand emerged the 1st nine award after amassing 33 net and Fr. Felix Kibich clinched the 2nd nine winner having scored 37 net.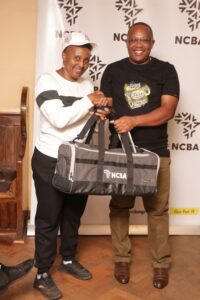 NCBA Group Director, Retail Banking, Tirus Mwithiga said that NCBA is looking at growing the sport from a regional outlook in the counties by creating a platform that enables golfers to swing their way to greatness
"This sponsorship ties well with our strategic ambition of inspiring greatness by delivering value to our customers. Golf sponsorship is well anchored in our strategic vision as a bank of not only growing and nurturing golfers but also connecting with our customers at a deeper level by supporting what matters to them the most. We therefore encourage all golfers to take advantage of our sponsored Golf Series tournaments to improve their handicaps." He added.
The NCBA Golf Series mug tournaments aim at tapping, nurturing and growing talent among golfers and will culminate at the grand finale in December where all winners from the various NCBA sponsored tournaments will battle it out for a grand prize.
The tournament was the 2nd one since the NCBA Golf Series was launched earlier this month.
Subsequently, NCBA this weekend were the title sponsors of the Muthaiga Open golf event that was organized by the Kenya Golf Union. The event saw top amateurs, professional golfers, juniors and ladies participate in the tournament. The event, which was its third Kenya Amateur Golf Championships series, aims to promote golf by sponsoring elite and amateur golfers. The top winners got to walk away with cash prizes.